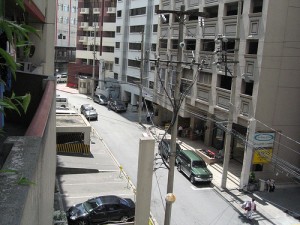 A common decision property seekers face when looking to rent in Makati is the choice of renting a house or an apartment. Each type of property has its benefits and disadvantages, and the decision is one that will affect your daily life. Before we get started, it is important to know that Makati rental prices do not necessarily differ between an apartment or a house. Let it be known that some apartments / condos can cost much more than a house. The same can be true for a house in out-pricing an apartment. Let's explore the pros and cons of both:
Makati Housing: Houses for rent in Makati are primarily located in one of five gated villages. It is possible to find houses outside of gated villages, but not recommended to newcomers.The largest gated villages are named the following:
Bel-Air village
Urdaneta Village
Forbes Park
Dasmarinas Village
San Lorenzo Village
Each of the above villages provide a sanctuary of peace and quiet while still being located a short drive away from your office in Makati. The villages contain schools for Children (sometimes International Schools), multiple parks and playgrounds for various activities, a swimming pool (depending on the village), and friendly neighbors. One large issue about renting a house is the need to have your own transportation. Unless the house is located within a short walking distance outside of the gate, having your own transportation is highly recommended.
Advantages of staying in a house include:
Not having to use an elevator to access your abode. This saves you time.
Not walking by multiple guards to access your place. Some people enjoy this, some do not.
Peace and quiet. Living in a condo / apartment is not always quiet because sound travels up. Living in a gated village is quiet because there are little to no loud noises.
Lots of trees and large, quiet roads. The city has trees, but the Makati housing villages have lots more of them. Combined with lots of landscaping and parks, the housing villages are serene.
You may get many more square meters of living area at a price much less than a condo.
Makati Apartments: Renting an Apartment / Condo in Makati also offers parallel benefits to that of someone living in a gated housing village. Apartments come in a wide array of shapes, sizes, and prices. Living in a Makati apartment building is similar to living in a vertical village.
Advantages of staying in an apartment include:
Close location to your work office
Easy access to your home 24 hours a day
Most apartments have a shared swimming pool and gym for tenant's use
Walking distance to malls, supermarkets, and night life
Beautiful cityscape views
Our best advice to you is to schedule a tour around Makati and decide which type of property is best suiting your needs. A Makati house may be priced lower than a condo or apartment you like, but needing your own transportation may not be practical. Likewise, an expensive penthouse apartment unit may not fit a family's need of being close to a school.
As RentInMakati.com continues to grow and improve, expect a much more in depth advice and opinions. In the meantime, contact us if you have any questions on how you can get started looking to rent in Makati today!